Many spectacular things happening in this world every few moments. The conventional way of sharing photos and getting a bunch of likes is not much fun. People love to share their experience in a new way, live streaming. Many companies have come up with this feature recently and not to mention YouTube is one of them. We can see many live videos on YouTube like underwater camera, International Space Station, news channels, cooking tips, driving through city and many more.
Here are some popular livestreaming services :
Live Streaming is the best way to reach out to the audience and interact with them. You can even chat with followers during streaming. One of such popular platform is Periscope. It allows people to talk, chat and ask questions with broadcaster. That said, Periscope was acquired by Twitter before its public launch on 2015.
In this article we will discuss about YouTube and its features. Google acquired YouTube on 2006 and afterwards launched the live streaming app. While Periscope doesn't allow to save the video after it is streamed, YouTube does. This is what I personally liked the most about YouTube. Of course YouTube is a nice option to go live but we cann't save the live chats. After the video goes offline, its not possible to get those valuable information left by the audience which would have been more fun.
We are anouncing a beautiful Chrome Extension which can essentially save the YouTube live streamign chats in browser and you can even download them to read later.
How it works ?
Once you install the plugin, you can see a button called ''Save Chat". After it is enabled, it starts saving the chats in the browser and technically saying it stores in local chrome storage. Even after the stream has ended, chats will be displayed in the same place in similar fashion. Additionally there is an option to export those chats to CSV. It exports all the information including author name and time.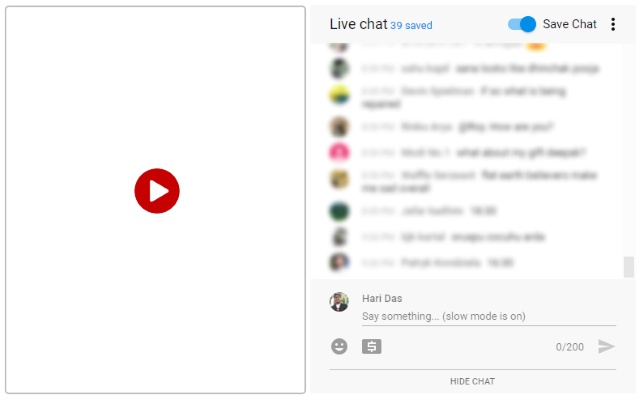 Set Up
Install this Chrome Extension



Once installed, open the live streaming video URL
You will find a 'Save Chat' button in the header as shown below.



Enable the button to save chats
Click the <number of saved> link to export to CSV.