While writing in Google Spreadsheet we sometimes need to insert special characters. Googles docs is having this feature by default, but in sheets this great feature is missing and there is no provision to insert them. So keeping that in mind we have created an add-on which can now help you to quickly insert special characters in sheets.
Special Characters categories
As of now we have following categories and we are also adding more charaters gradually.
Currency : It includes the currency symbols such as ₹, ₤, €, ₰ etc.
Arrow : It includes all kind of arrows like left, right, up, down, single headed, double headed. e.g. ←, ↑, →, ↩ etc.
Dingbat: Dingbat's are the printer's characters. It includes all the Dingbat's. e.g. ✿, ❖, ➰, ❎
Geometric: It includes all the geometric symbols. e.g. ◉, ◣, ◓, ◨
Math: It includes all the math function's symbols. e.g. ∰, ∑, ∈, ∅
Greek and coptic: It includes all the Greek and coptic symbols. e.g. Ώ, Ψ, β, σ
Miscellaneous: Some miscellaneous symbols are also present. e.g. ☂, ☎, ♕, ⚽
This add-on is surely going to save your time.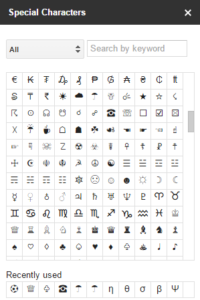 Available Features
Characters are arranged according to the categories, so It is easier to filter them.
There is a search functionality provided where you can search the characters by their name.
If you will hover on any character, It will show you the details.
Preview also shows you the unicode of that symbol which is useful for developers.
All recently used characters are also listed which will help you to quickly re-insert from your recent history
We accept feature request
If you find any special character missing in the list you can contact us at support@tabgraf.com. We will surely add them in the list.