Being a teacher you may always want to create practice tests, quiz tests and online exams for your students. Tests and quizzes are very essential to enhance your student's skills. Though there are some apps/sites available on internet for conducting quiz and tests, but how about organizing the same with a Google Spreadsheet. This is where our tool will comes handy. We have created this app which can help you to create quizzes/e-exam from Google Sheets. You can set questions, test details and students details in a sheet and your quiz will be ready within 5 minutes. No programming skills required, just with your existing skills you can set this up quickly.
We have got 3 different versions of Dynamic Quiz. Version 1 and 2 comes with a single package and Version 3 comes with another. Have a look on below table to understand their features.
Purchase and download it now !
$9.99




Version 1.0

$22




Version 3.0

Set questions easily in Google Spreadsheet
YES
YES
Display score at the end
YES
YES
Embed test in any sites
YES
YES
Exam with secure password
NO
YES
Storing scores in Google Sheet
NO
YES
Admin settings to be configured in Google sheets
NO
YES
Question wise analysis at the end of the test
NO
YES
Can conduct online exam
NO
YES
How you can implement this
In today's world, simplicity is required everywhere. Keeping that in mind we have created a script which fetches data from Google Spreadsheet and display them as a quiz. You just need to provide the questions and options in the spreadsheet in separate columns and let the JavaScript to do all the work. Next time when you create a new quiz simply change the questions and options in the sheet. Thats all. Keep It Simple Silly.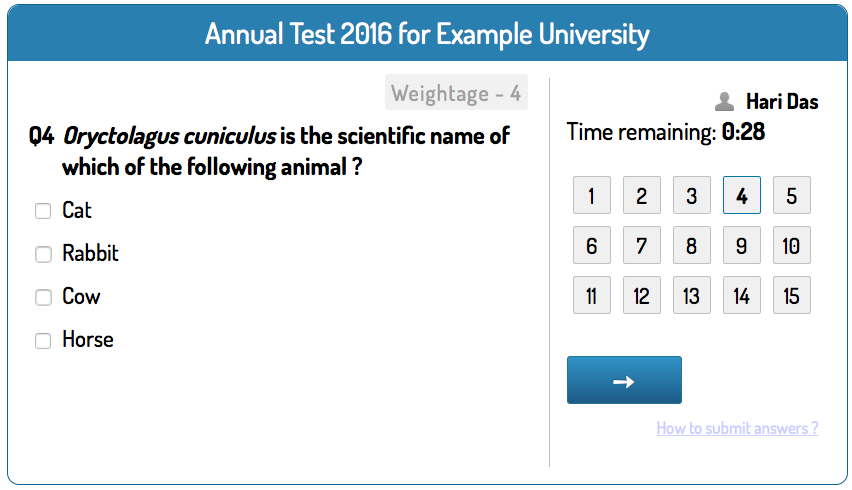 What advantages you will get
First of all you overcome the headache of dealing with complex JavaScript code
Writing questions and answers made easy with Spreadsheet as it is well organized and distinct
Maintanability greatly increases, for example if you want to add some more questions, simply add them in the spreadsheet
It has a great mode of flexibility, for instance if you want some questions to have only two options, then mention only two options in the sheet. JavaScript will automatically detect them and display only two
Your data is highly secure as they have been hosted in Google server
The loading time of the quiz significantly reduces as the data comes in JSON format and it is handled easily with JavaScript